Aileen Wuornos: The Selling of a Serial Killer
This documentary is an award-winning documentary by Nick Broomfield, in which he documents the life of a notorious female serial killer (Aileen Wuornos) and her plea for forgiveness after having been handed the death sentence for the murder of seven men in the state of Florida. In the duration of this documentary Nick interviews and gets to know her adopted mother Arlene Pralle, friends and family who have all been shocked to learn of the murders and documents their desperate attempt to help her cope with the life sentencing. Aileen, a prostitute from the age of sixteen has always been known to get into trouble and abuse alcohol, but the cold blooded murders of seven clients have taken the state of Florida by surprise and given Aileen the title of first woman to be sentenced to death in Florida's history.
Nick in this documentary plays a participatory role and really gets involved in getting to the bottom of the case, which shook America. He comes across various obstacles and is even asked at one point to produce $25000 in order to interview Arlene Pralle, but later agree to settle for a lesser sum of money.
There are a couple interesting characters in this documentary, but by far the most intriguing being the woman herself, Aileen. Even though she comes from a broken home and has lived this tough life, she comes across as a very smart and inteligent woman. She understands how the law works and throughout the interviews states how the murders were all in self-defense and that she must have a re-trial, without a biased jury.
Another interesting character is the hillbilly-looking lawyer of Aileen named Steven Glazer. At first glance Steve does not exactly look like your stereotypical lawyer, wearing odd clothing and driving a pick up truck. But as a law graduate and a student of the American constitution he feels more than capable of representing Aileen in court. Knowing Aileen has already confessed to the murders, the mission is really to keep her from being put on the electric-chair, making her the first woman to be put to death in Florida's history.
The film in many ways questions morality and the act of killing one for killing others. Is this the way to resolve a horrific incident and does it bring closure to the people affected? These are all legitimate questions asked throughout the documentary and the viewer is taken along on this journey of redemption and forgiveness. Although many may question if Aileen qualifies for forgiveness, since she has taken so many lives herself.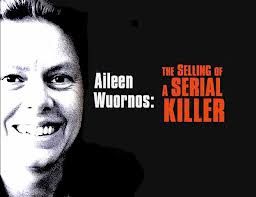 Throughout this facinating film, Aileen over and over again makes it very clear that her actions were solely done in self defence and that she is very sorry for what the families of the victims have been put through. However, as much sympathy as you may have for this women you cannot help but question why she did not stop the killing at first attack or even the second, I mean why did she have to continue and kill client after client. Any human being would ask these quesitons at one point or another and by the end of the documentary you yourself tends to feel not so sorry for her, as the story unravells.